–– Photograph taken in April 2000 ––
http://back.to/moses



As a legal scientist, he discovered the
3D structure of the Ten Commandments
in 1983, and succeeded in reconstructing
the famous two stone Tablets of the Law
of the Torah of Moses from the Sinai,
complete and precise to the millimeter.
---
Mosaical Metrology · 3D Decalogue · 2D Alphabet · Kabbalah · Pyramids · Israelite Dynasty · Philosophy · Musical Theory · Metzler Formula · Mosaical Religions
---
This website is designed to be viewed at screen resolutions of 640 x 480 or 800 x 600 pixels.
Opposite Page


THIRD WEEKDAY
Third Lesson



The third letter of the third schoolday
is taken away from the first letter by the second:
The hand (Yod) of the left arm touches with its
thumb and index-finger the nipple of the right
breast, lifts it up, and sets it down as a separate
letter Tau "mark or nipple" by its side. Wishing to
express that he had nothing to hide in his bosom
Job exclaimed with a rhetorical gesture at the end
of his speech: Hen Tauwe Shadai "Behold the
nipples of my breasts" ('Iyob 31, 33–35). The
word Tau also means any mark consisting of two
strokes cutting each other at right angles: "And
he called the man wearing linen clothes with
writing eqipment at his loins, and YaHUH said
to him: Go through the center of the city, through
the middle of Yerushalayim, and mark with the
letter Tau the foreheads of men" (Yechezkel 9,
3 and 4). This letter is already found in the
Old Hebrew inscription on a sphinx from the Sinai
at the end of the last word B'ALT "lady".
– 79 –



Illustration concerning Dr. Ed Metzler's Fayoum Exodus Route.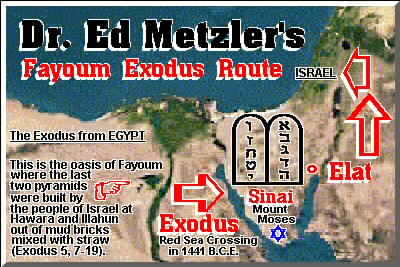 PLAY Ha-Tikwah (The Hope), Israel's National Anthem

---
Web News MP3 Pictures
Try Ixquick Metasearch!
The world's most powerful metasearch engine
---
© All rights reserved - Alle Rechte vorbehalten
by Dr. Ewald (Ed) Metzler-Moziani.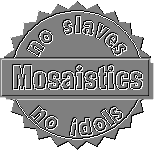 You are visitor no.
learning meditation
on this website.





Hosted by