–– Photograph taken in April 2000 ––
http://back.to/moses



As a legal scientist, he discovered the
3D structure of the Ten Commandments
in 1983, and succeeded in reconstructing
the famous two stone Tablets of the Law
of the Torah of Moses from the Sinai,
complete and precise to the millimeter.
---
Mosaical Metrology · 3D Decalogue · 2D Alphabet · Kabbalah · Pyramids · Israelite Dynasty · Philosophy · Musical Theory · Metzler Formula · Mosaical Religions
---
This website is designed to be viewed at screen resolutions of 640 x 480 or 800 x 600 pixels.
Opposite Page


FIRST WEEKDAY
First Lesson



Since the Torah of the alphabet teaches
the alphabet &nbsp of the Torah conceived by Mosheh
in the Sinai, it begins with the first letter 'ALP
(read 'Alef, Greek Alpha) of the first word
'ANKI "I" of the first document in alphabetic
script – the ten commandments. The meaning
of 'Alef is "to tame or to teach": 'A-'alef-kha
Chokhmah "I shall teach you wisdom" (Job
33, 33). Hence the past participle 'Aluf means
"tamed, friend, husband, a tame lamb or bull
trained to plough". However the word 'Aluf or
'Alef does not denote the ox, who is deprived
of his masculinity, for the law of the Torah
prohibits any castration of man or animal (Levi-
ticus 22, 24). The 'Alef is represented by two
semicircles standing for the horns, and the upper
part of the skull. In the Old Hebrew inscription
from the Sinai, there is still an eye, and some
more of the bull's head. In Jewish-Aramaic script
the letter 'Alef remained almost unchanged.
– 99 –




Illustration concerning Dr. Ed Metzler's Fayoum Exodus Route.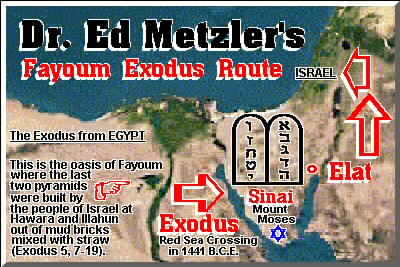 PLAY Ha-Tikwah (The Hope), Israel's National Anthem

---
Web News MP3 Pictures
Try Ixquick Metasearch!
The world's most powerful metasearch engine
---
© All rights reserved - Alle Rechte vorbehalten
by Dr. Ewald (Ed) Metzler-Moziani.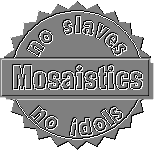 You are visitor no.
learning meditation
on this website.





Hosted by