–– Photograph taken in April 2000 ––
http://back.to/moses



As a legal scientist, he discovered the
3D structure of the Ten Commandments
in 1983, and succeeded in reconstructing
the famous two stone Tablets of the Law
of the Torah of Moses from the Sinai,
complete and precise to the millimeter.
---
Mosaical Metrology · 3D Decalogue · 2D Alphabet · Kabbalah · Pyramids · Israelite Dynasty · Philosophy · Musical Theory · Metzler Formula · Mosaical Religions
---
This website is designed to be viewed at screen resolutions of 640 x 480 or 800 x 600 pixels.
Opposite Page


TEXT OF THE CONTRACT



§ 3. As the Hebrew title of the book of
"Exodus" Sefer Shemot is taken from its second
word, also the contract of the two stone tablets
is named after its fourth through eighth letters
Berit YaHUH. The text of the contract is written
in an uninterrupted chain of letters, like a bull
ploughs (Boustrophedon), in ten vertical lines
or columns of 31 letters each, which are called
the "ten drifts" ('Asseret ha-Devarim from Davar
"to drive") of the ploughing bull being driven
from one end of the field to the other, where
he has to turn around and come back (Exodus
34, 28). Every line runs upward 15 letters until
it arrives at the top edge of the tablet, on which
the 16th letter is written, and after passing over it
descends on the opposite side ('Ever from 'Avar
"to pass") for another 15 letters (Exodus 32, 15).
The space between the lines consists of one
letter-unit (i. e. one tenth of a Mosaical cubit)
and is marked by the turning-letters, so that the
entire text of the contract comprises 320 letters.
– 101 –



Illustration concerning Dr. Ed Metzler's Fayoum Exodus Route.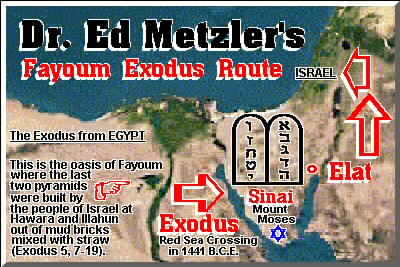 PLAY Ha-Tikwah (The Hope), Israel's National Anthem

---
Web News MP3 Pictures
Try Ixquick Metasearch!
The world's most powerful metasearch engine
---
© All rights reserved - Alle Rechte vorbehalten
by Dr. Ewald (Ed) Metzler-Moziani.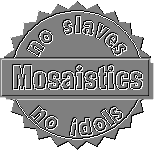 You are visitor no.
learning meditation
on this website.





Hosted by