–– Photograph taken in April 2000 ––
http://back.to/moses



As a legal scientist, he discovered the
3D structure of the Ten Commandments
in 1983, and succeeded in reconstructing
the famous two stone Tablets of the Law
of the Torah of Moses from the Sinai,
complete and precise to the millimeter.
---
Mosaical Metrology · 3D Decalogue · 2D Alphabet · Kabbalah · Pyramids · Israelite Dynasty · Philosophy · Musical Theory · Metzler Formula · Mosaical Religions
---
This website is designed to be viewed at screen resolutions of 640 x 480 or 800 x 600 pixels.
Opposite Page


SECOND WEEKDAY
First Lesson



The fifth "commandment", i. e. the fifth,
and last line (Davar) of the first of the two
stone tablets of the contract hewn and written
by Mosheh, begins in the lower left-hand corner
of its front side ('Ever 'Alef) with the letter H'A
(read He', Latin E), which being the fifth letter
of the alphabet has the numerical value "five",
and hence its position at the beginning of the
second schoolday of the Torah of the 'Alef-Bet.
The letter He' consists of a semicircle that is
open at the top, and is being cut in the middle
by a vertical stroke. In the Old Hebrew inscription
on a sphinx from the Sinai it still has a leg
with a bent knee as well as a head suggested by
a dot. It represents a human being regardless
of sex, a male or female person, and con-
sequently expresses the personal pronoun of the
third person singular "he or she". Similarly, the
Hebrew article Ha, just like the English "the",
does not distinguish at all according to gender.
– 91 –



Illustration concerning Dr. Ed Metzler's Fayoum Exodus Route.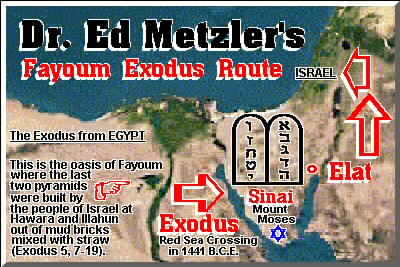 PLAY Ha-Tikwah (The Hope), Israel's National Anthem

---
Web News MP3 Pictures
Try Ixquick Metasearch!
The world's most powerful metasearch engine
---
© All rights reserved - Alle Rechte vorbehalten
by Dr. Ewald (Ed) Metzler-Moziani.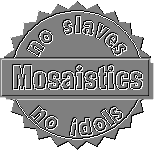 You are visitor no.
learning meditation
on this website.





Hosted by