Translation: CERTIFICATE OF ADOPTION – This is to certify that Dr. Ewald METZLER, M.C.L. from Herborn in Hessen, born there on 23. November 1936, was adopted here in Frankfurt/Main on this day, and according to the ritual laws and regulations into the Jewish community, and received the Hebrew name YEHUDA ben Avraham avinu. –––––––––––––– Frankfurt/Main, 12. Shevat 5737 = 31. January 1977 [seal and signature] Rabbi Ernst Roth, Frankfurt on the Main, Chief Rabbi of the State of Hessen, Germany.




BACKGROUND


My father's family were Herborn Calvinists of old Puritan stock dating back to the days of the Pilgrim Fathers, and my mother's family were Plymouth Brethren, being founded by John Nelson Darby in West Germany (Nassau, Westphalia, Rhineland) and Switzerland. During the Hitler era neither of my parents were members of the Nazi party. Our permanent home was close to the historical City Hall of 1620 at Bahnhofstrasse 23, built by my grandfather Philipp Metzler, where I was born, and since 1939 at Bahnhofstrasse 19, built by my father. My parents could have gotten a Jewish house cheaply, but refused. My mother used to say, there is no blessing on stolen Jewish property. At home, my parents openly called Hitler a criminal. They were the only people in our street who never displayed a Nazi Swastika flag, nor possessed one, as all our neighbors did. My parents taught me while Hitler lived, "Thou shalt not follow a multitude to do evil" (Exodus 23, 2). I take pride in the fact that my home town of Herborn once had a famous Calvinist University from 1584, till it was abolished by Napoleon in 1812. Many of the books used in early Harvard were printed at the Herborn University Press, and written by fellow Puritan professors of Herborn, as can be seen from Perry Miller's classic about the New England Mind in the seventeenth century. From early on, I am acquainted with John Amos Comenius, a famous alumnus of Herborn, who later became the last bishop of the Bohemian or Moravian Brethren, and who was invited by governor Winthrop to be the first president of Harvard. When I was a young law student at Heidelberg University 1957-59, my teacher was Carl Joachim Friedrich, Harvard professor of Government, who had introduced America to the great Herborn jurist Johannes Althusius, known for his "Politica methodice digesta" which was printed in Herborn a few years before the Mayflower left. Recently, I learned from professor Daniel Elazar of Jerusalem that the political thoughts of Althusius even played a role in the Kibbutz movement in the reborn State of Israel.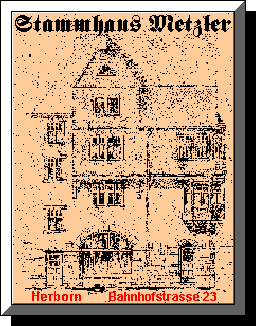 sideview from Turmstrasse.

Baby boy Ed Metzler grasping what cubes are,
later grasping the 150 cubic letter-units of the Tablets of Moses.
---
Mosaical Metrology · 3D Decalogue · 2D Alphabet · Kabbalah · Pyramid Builders · Israelite Dynasty · Western Philosophy ·
Musical Theory · Metzler Formula · Mosaical Religions
---
| | |
| --- | --- |
| Return to Dr. Ed Metzler's Virtual California Home | |
---