–– Photograph taken in April 2000 ––
http://back.to/moses



As a legal scientist, he discovered the
3D structure of the Ten Commandments
in 1983, and succeeded in reconstructing
the famous two stone Tablets of the Law
of the Torah of Moses from the Sinai,
complete and precise to the millimeter.
---
Mosaical Metrology · 3D Decalogue · 2D Alphabet · Kabbalah · Pyramids · Israelite Dynasty · Philosophy · Musical Theory · Metzler Formula · Mosaical Religions
---
This website is designed to be viewed at screen resolutions of 640 x 480 or 800 x 600 pixels.
84 Ed Metzler


limits the length of each of the 10 vertical lines
to 32 letters.42) I interpreted the biblical etymo-
logy of the tetragrammaton to mean that its
initial Yod may be exchanged and spelled Alef
(Exodus 3, 13–15). My interpretation proved
correct, because any other leads astray with the
wrong number of letters.43) When the separation
of words was introduced around 900 B. C. E.,
the first three words of the Ten Commandments
ANKIAHUHALHIK "I shall be your supreme
judge" could be reinterpreted as "I am YaHUH
thy God", taking the final Yod of ANKI "I"

––––––––––––––––



5.975 or 6.0 grams. Dividing the weight of a Manah-stone (Man)
(= 100 Beka) by its volume (= 0.1 Omer) yields the specific
gravity of granite (597.5 gm : 220 cm3 = 2.7), which was the
material of the broken tablets, i. e. Manah-stones as well as stone
cubes of 0.13 cubic cubits, and of the Tablets of the Law, that were "like the first" ka-Rishonim (Exodus 34, 4 = Deuteronomy 10, 3).
Granite is found near Elat, cf. Ephraim Orni and Elisha Efrat,
Geographie Israels (Jerusalem 1966) p. 350.
42) In Kabbalah geometry (Hebrew "Gematriah") has
always been considered essential to understanding the Torah of
Moses, but the inaccessibility of the Tablets of the Law (above
Notes 31 and 32) led to its deterioration, cf. Gershom Scholem
(N. 14) pp. 337–343.
43) A master of Kabbalah is called a Ba'al Shem meaning
the owner (Ba'al) of the tetragrammaton (Shem) who possesses
its etymology, which is the key to Mosaical Metrology and
Mosaistics, cf. Gershom Scholem (N. 14) pp. 310 and 311.
– 24 –


Illustration concerning Dr. Ed Metzler's Fayoum Exodus Route.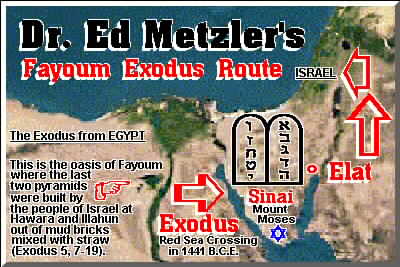 PLAY Ha-Tikwah (The Hope), Israel's National Anthem

---
Web News MP3 Pictures
Try Ixquick Metasearch!
The world's most powerful metasearch engine
---
© All rights reserved - Alle Rechte vorbehalten
by Dr. Ewald (Ed) Metzler-Moziani.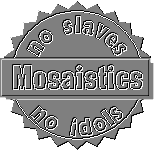 You are visitor no.
learning meditation
on this website.





Hosted by