–– Photograph taken in April 2000 ––
http://back.to/moses



As a legal scientist, he discovered the
3D structure of the Ten Commandments
in 1983, and succeeded in reconstructing
the famous two stone Tablets of the Law
of the Torah of Moses from the Sinai,
complete and precise to the millimeter.
---
Mosaical Metrology · 3D Decalogue · 2D Alphabet · Kabbalah · Pyramids · Israelite Dynasty · Philosophy · Musical Theory · Metzler Formula · Mosaical Religions
---
This website is designed to be viewed at screen resolutions of 640 x 480 or 800 x 600 pixels.
Opposite Page


TEXT OF THE CONTRACT



unhewn stones (Yehoshua' 8, 31 and 32), that had
been plastered and whitewashed (Deuteronomy
27, 2 and 3). Stone inscriptions such as those on
the sarcophagus of King 'Achiram of Byblos or
the stele of King Mesha' of Moab have not been
found in Israel – nor are any to be expected.
The Shiloach-inscription is no exception, for its
stone was not quarried and removed from its site
in Yerushalayim, so that it did not constitute a
Pessel in violation of the prohibition. Although
the alphabet was conceived by the people of Israel
and received by the whole world, the two stone
tablets of the contract hewn and written by
Mosheh were to remain the only ones of their kind
in Israel for as long as this prohibition of the
Torah was observed. They were at last deposited
in their box in the Holy of Holies of the temple
built by King Shelomoh in Yerushalayim, and
being already buried, as it were, in a dark
and inaccessible room nothing is known about
them after it was destroyed (1. Kings 8, 6–9).
– 103 –



Illustration concerning Dr. Ed Metzler's Fayoum Exodus Route.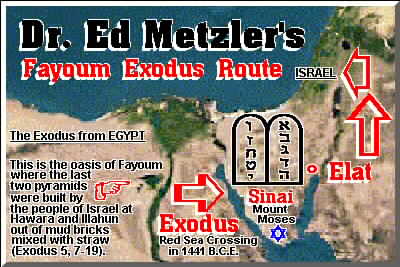 PLAY Ha-Tikwah (The Hope), Israel's National Anthem

---
Web News MP3 Pictures
Try Ixquick Metasearch!
The world's most powerful metasearch engine
---
© All rights reserved - Alle Rechte vorbehalten
by Dr. Ewald (Ed) Metzler-Moziani.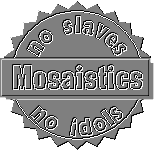 You are visitor no.
learning meditation
on this website.





Hosted by