–– Photograph taken in April 2000 ––
http://back.to/moses



As a legal scientist, he discovered the
3D structure of the Ten Commandments
in 1983, and succeeded in reconstructing
the famous two stone Tablets of the Law
of the Torah of Moses from the Sinai,
complete and precise to the millimeter.
---
Mosaical Metrology · 3D Decalogue · 2D Alphabet · Kabbalah · Pyramids · Israelite Dynasty · Philosophy · Musical Theory · Metzler Formula · Mosaical Religions
---
This website is designed to be viewed at screen resolutions of 640 x 480 or 800 x 600 pixels.
INTRODUCTION



of ancient Roman law, which would be of interest
only to a comparatively small group of experts
and thus should comply by all means with the
formal standards of scholarship in their field,
this basic book on the origin of the alphabet
and the reconstruction of the two tablets of
Mosheh may count on finding a worldwide interest
among the general public, since the alphabet has
spread over the whole world and the Bible is the
greatest best-seller of all times. In addition, the
reconstruction of the original alphabet and the
Tablets of the Law as well as the decipherment of
the inscription on the sphinx are all 100 percent
and, as in the game, if all the pieces of a puzzle fit
together with no single fragment missing it is most
convincing to show the complete result, and let it
speak for itself without lengthy explanations on
how it was found and why a certain piece belongs
in a certain place. Nevertheless, the author is pre-
paring a separate annotated edition, to which this
book is a

preliminary report of the final results.
– 19 –



Illustration concerning Dr. Ed Metzler's Fayoum Exodus Route.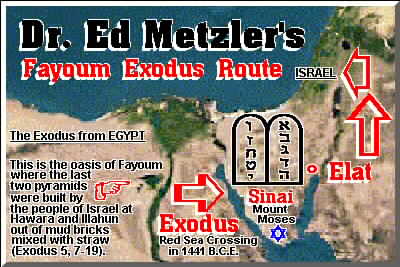 PLAY Ha-Tikwah (The Hope), Israel's National Anthem

---
Web News MP3 Pictures
Try Ixquick Metasearch!
The world's most powerful metasearch engine
---
© All rights reserved - Alle Rechte vorbehalten
by Dr. Ewald (Ed) Metzler-Moziani.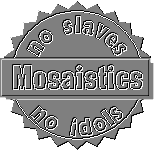 You are visitor no.
learning meditation
on this website.





Hosted by