–– Photograph taken in April 2000 ––
http://back.to/moses



As a legal scientist, he discovered the
3D structure of the Ten Commandments
in 1983, and succeeded in reconstructing
the famous two stone Tablets of the Law
of the Torah of Moses from the Sinai,
complete and precise to the millimeter.
---
Mosaical Metrology · 3D Decalogue · 2D Alphabet · Kabbalah · Pyramids · Israelite Dynasty · Philosophy · Musical Theory · Metzler Formula · Mosaical Religions
---
This website is designed to be viewed at screen resolutions of 640 x 480 or 800 x 600 pixels.
TORAH OF THE ALPHABET



to read them having to pass over the summit
(Ma'avar) to the opposite side ('Ever from 'Avar
"to pass") on each of the ten lines ('Asseret
ha-Devarim) written like a bull ploughs (Boustro-
phedon). When the box with the two tablets was
finally deposited, some 500 years later, in the
Holy of Holies of the temple built by King
Shelomoh in Yerushalayim their function had
changed from a legal document into an object
of religious worship, which is an elegant way of
keeping the basic document of the ancient Israelite
republic from being read in the monarchy that
abolished it. This leads to a new definition of
the Bible as the oldest collection of alphabetic
literature that grew around the law of the two
tablets of the Torah of Mosheh from the Sinai,
the first document in alphabetic script.
§ 9. Not being adorned with an apparatus
of footnotes they are neither deemed necessary
nor desirable in this book. In contradistinction to
a book on the reconstruction of the twelve tablets
– 18 –



Illustration concerning Dr. Ed Metzler's Fayoum Exodus Route.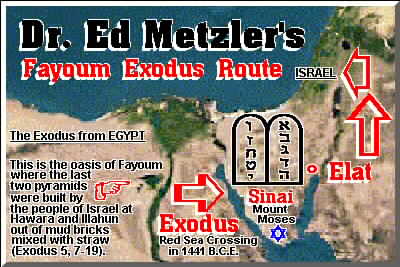 PLAY Ha-Tikwah (The Hope), Israel's National Anthem

---
Web News MP3 Pictures
Try Ixquick Metasearch!
The world's most powerful metasearch engine
---
© All rights reserved - Alle Rechte vorbehalten
by Dr. Ewald (Ed) Metzler-Moziani.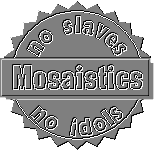 You are visitor no.
learning meditation
on this website.





Hosted by