–– Photograph taken in April 2000 ––
http://back.to/moses



As a legal scientist, he discovered the
3D structure of the Ten Commandments
in 1983, and succeeded in reconstructing
the famous two stone Tablets of the Law
of the Torah of Moses from the Sinai,
complete and precise to the millimeter.
---
Mosaical Metrology · 3D Decalogue · 2D Alphabet · Kabbalah · Pyramids · Israelite Dynasty · Philosophy · Musical Theory · Metzler Formula · Mosaical Religions
---
This website is designed to be viewed at screen resolutions of 640 x 480 or 800 x 600 pixels.
76 Ed Metzler


§ 10. There was writing on both sides of
the Tablets of the Law (Exodus 32, 15). The text
of each tablet is equally divided between front
and reverse by the other fold, which runs through
the Resh in Asher Hotzetikha "which brought
thee out" (Exodus 20, 2 = Deuteronomy 5, 6),
and through the sixteenth letter of every line.26)
Consequently, the ten lines were not horizontal,
but vertical columns of letters passing over the
top of the tablets to their opposite sides on
each of the ten lines.27) Thus the Ten Command-
ments would begin in the lower right-hand corner
on the front of the first tablet, running upward
fifteen letters, one on top, fifteen down on the

末末末末末末末末



26) The sixteenth letter of the tenth line is the Shin of
Ed Shaker "false witness" on top of the second tablet, so that
the subsequent letters Kof and Resh are in a vulnerable spot
in the upper left-hand corner on the front (cf. Note

52 infra).
27) Here as elsewhere in the reconstruction of the Tablets of the Law the right hypotheses were prompted by linguistics,
and verified by mathematics: The etymology of Davar implied
boustrophedon (cf. Note 22 supra), the expression "from lip
to lip" meant a square (cf. Note 40 infra), and the volume of
a Manah weight-stone proved identical with the Manna in the
Omer (cf. Note 41 infra). The idiomatic use of the Hebrew
word Ever "opposite side" suggested passing (Avar "to pass")
over the top of the tablets like a mountain-pass (Ma'avar).
– 16 –


Illustration concerning Dr. Ed Metzler's Fayoum Exodus Route.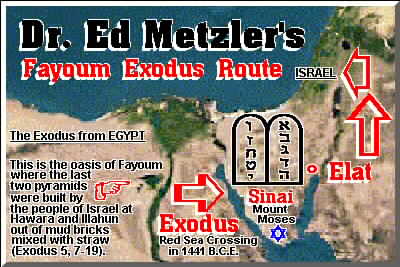 PLAY Ha-Tikwah (The Hope), Israel's National Anthem

---
Web News MP3 Pictures
Try Ixquick Metasearch!
The world's most powerful metasearch engine
---
© All rights reserved - Alle Rechte vorbehalten
by Dr. Ewald (Ed) Metzler-Moziani.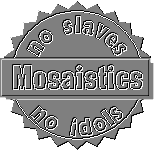 You are visitor no.
learning meditation
on this website.





Hosted by