–– Photograph taken in April 2000 ––
http://back.to/moses



As a legal scientist, he discovered the
3D structure of the Ten Commandments
in 1983, and succeeded in reconstructing
the famous two stone Tablets of the Law
of the Torah of Moses from the Sinai,
complete and precise to the millimeter.
---
Mosaical Metrology · 3D Decalogue · 2D Alphabet · Kabbalah · Pyramids · Israelite Dynasty · Philosophy · Musical Theory · Metzler Formula · Mosaical Religions
---
This website is designed to be viewed at screen resolutions of 640 x 480 or 800 x 600 pixels.

§ 10. The Judges of Israel from Moses to
Samuel are contemporary with the second inter-
mediate period between the Middle Kingdom
and the New Kingdom in Egypt, as proven by
Immanuel Velikovsky.28) The remarkable fact that
Egypt is not mentioned in the Bible after the
Exodus, until King Saul defeated the Amalekites
in the wadi of El Arish (Avaris) on the border
between Israel and Egypt, is explained by their
identity with the Hyksos, who terrorized both
countries from their border capital during this
period.29) After the defeat of their mutual enemy,
the New Kingdom began in Egypt with the
eighteenth dynasty, while Israel also became a
monarchy. In this way, Immanuel Velikovsky
already arrived at identifying Queen Hatshepsut

末末末末末末末末



28) See Immanuel Velikovsky (N. 27) chapter 2. The final
transformation of the ancient Israelite republic into a despotic
monarchy after more than 400 years was due to the fact that
Israel became too big and ungovernable after the defeat of its major
enemy, like Rome after the defeat of Carthage, cf. Ed Metzler,
Roots of Kabbalah (N. 14) Notes 42 and 43.
29) The Amalekites are descendants of Israel's twin brother
(Genesis 36, 12), and their name 'a-Maleq is a dialectal variant of
Hebrew ha-Malekh "king", translated into Egyptian as "Hyksos".
– 17 –


Illustration concerning Dr. Ed Metzler's Fayoum Exodus Route.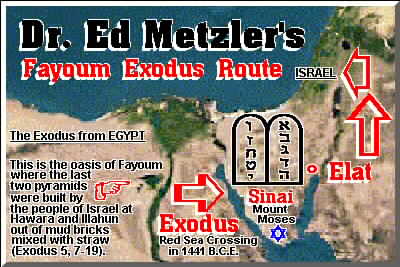 PLAY Ha-Tikwah (The Hope), Israel's National Anthem

---
Web News MP3 Pictures
Try Ixquick Metasearch!
The world's most powerful metasearch engine
---
© All rights reserved - Alle Rechte vorbehalten
by Dr. Ewald (Ed) Metzler-Moziani.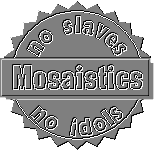 You are visitor no.
learning meditation
on this website.





Hosted by